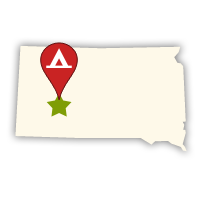 I'm Dawn – wife, mother of five, and grandma to eight beautiful grandchildren. My family returned to the family ranch back in 2001 to run a cow and calf operation. I've loved this ranch my whole life. Our kids grew up on this ranch and now our grandchildren are enjoying it, too. My husband works a full-time job away from the ranch and I recently hung up my pager after 26 years as an EMT – not an easy decision. Things stay busy for us all the time, to say the least.
I'm not sure exactly when we decided we wanted a campground but it all started with trying to figure out what to do with two small unused grain bins on the ranch. In 2017 our youngest son needed a senior project so I convinced him to help transform our grain bin into a cabin. With the help of a carpenter and mentor we went to work building our Bin Cabin, using recycled items where possible.
I'm delighted to say it turned out better than I could have imagined. It's a work in progress, though, and we still have one more to finish but we decided to go ahead and share the Bin Cabin and turned it into a cozy little RV campground.
We're now building a "Binzebo" to gather under and enjoy the great outdoors. It has a comfy seating area around a propane fire pit, perfect for making memories with family and friends. It should be finished by the time we open this spring.
Bin2Quinn Campground only six miles from Wall, South Dakota, not much further to Badlands National Park, and just down I-90 Is the beautiful Black Hills with many wonderful places to visit. Nearby Tennyson Dam is great for fishing, kayaking and watching the beautiful South Dakota sunsets. At night when the sky is clear the stargazing is amazing. We hope you'll visit, relax and enjoy this simple life as much as we do.